Our Mail debacle was FINALLY solved. Apparently one of our neighbors requested a vacation stop and some how the address got mixed up and our mail was held. So we got a ton of mail today, including the much anticipated American Eagle Faux Fur vest. When I ripped open the package I knew it was perfect. I got a few requests to review this item so I threw on a little outfit to give you my review. It was every thing I hoped it to be. Not to big, not too furry, and JUST right. I feel oh so Rachel Zoe in this thing. The only thing I did notice is that it itched my arms a bit but it did not itch my neck. LOVE this thing, and I expect to wear it often, I highly recommend it. As for sizing I took a small. Thanks again to J at The Look for Less for finding this! You can find this item here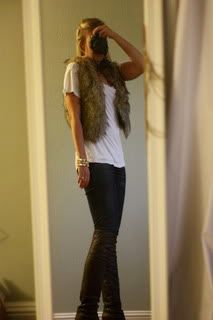 I also wanted to review another item I got today, which I also threw on to review. It was the Ecote Geo Wrap skirt from Urban Outfitters, as seen on Lauren Conrad. This is one many of the "Copy Cat" styles you will see me post on here. I sometimes see styles I feel the need to emulate. As for my review I loved this skirt as well. I thought the pleating on it was so cute. Very Philip Lim for a great price . It runs small though. I am a wearing a size 4 in the skirt. You can find this item here.

As Seen on Lauren Conrad, photo source unknown
A few more purchase reviews to come....