We all have Style Icons, I have mentioned quite a few of my style icons in previous posts (
here
,
here
and
here
to name a few). I decided every once in awhile these icon of mine (and I'm sure yours) need their own post. Today I decided to feature one of my favorite style icons
Diana Princess of Wales.
I grew up loving Princess Di. She was a real life Barbie in my opinion. And I always felt like I had a connection to her, mostly because I was given the middle name Dianna after her (only my Dad accidentally misspelled Diana on my birth certificate!!!!) When my mom pregnant she closely followed Princess Diana's pregnancy (Prince Williams' birthday is week after mine). Their close pregnancies inspired my middle name and forever had me interested in the woman who I was named after. Growing up I have many memories of looking at pictures of Diana on the cover of my Gma's People magazines, watching her interviews on TV with Barbra Walters and just plain being enamored by her Princess Status.. She was role model of mine not only in her fashion choices but her humanitarian work as well. She was everything I wanted to be......A Princess!
Here are a few of my favorite Princess Diana's looks:
Image Source unknown, Sorry!
Image from fashion.about.com/od/celebritystyle/ig/Prince...
Image from www.dailymail.co.uk
Image from People.com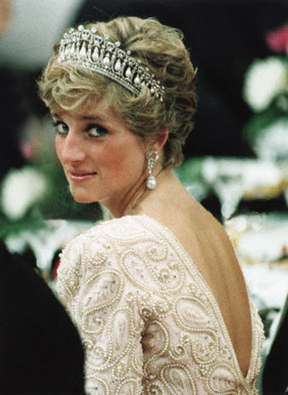 Image from www.topnews.in/files/dodi-diana.jpg
Image from www.princeharry.co.uk/.../
Photo courtesy of picknettprince.com
Image from UPI.com
Image from Diana Princess of Wales by Mario Testino
Stunning, elegant and I love how she ever so slightly pushed the envelope. Simply fabulous, and nothing less then a Princess. No wonder we all loved her so much.